SATRA is Upstate New York's Leading MOTOCROSS Club!
SATRA is Your Ticket to Ride!
P.O. Box 122
Newport, NY 13416
315-695-8040
SATRA Photo Gallery on
The SATRA Photo Gallery Has Been Implemented on Photobucket.
To Access the Photo Gallery, Click the Photobucket Logo or Image Below.
To Contribute, Photos Can be Sent to the Following E-mail Address: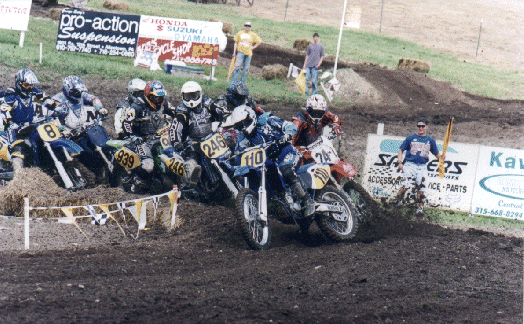 Mike Meleski with the Holeshot circa 2000.
Click the Image to Access the SATRA Photo Gallery on Photobucket.
Photobucket Tips:
When the SATRA Photobucket page first loads, the "Library" expander might be collapsed not allowing you to view the albums. Move the mouse to just above the vertical text that reads "Show Albums and Stories", then click the right arrow when it appears.


Once expanded, the 1st level of albums will be visible (as seen to the left). For now, I have uploaded some pretty old photos from 1998 to 2001, so check them out to see who you recognize.

The "Members" album is new and if you would like an album created for yourself, then send me your name and photos that you would like added to your album.